Adhere a picture from a magazine, a piece of fabric or a favorite photo to a thin piece of craft wood. Decorate the clock with beads and other craft materials. Drill a hole in the wood and attach the clock hands, numbers and the motor.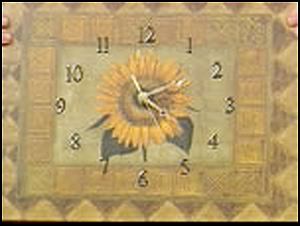 Use a decorative tin or metal tray as a clock. Anything that you can drill a hole through will work. Drill the hole in the center of the tray and carefully feed the pendulum unit shaft through the hole. Place the hands onto the shaft. The hour hand always goes on first. Attach a nut to hold the hands in place, then tighten with a socket wrench. Attach four or more decorative jewels for the minutes. If you only use four, place one at the 12, 3, 6, and 9 o'clock positions. Attach the batteries and pendulum. Use an old place mat. Just drill a hole in the middle and install the parts A bulletin board is also a great backdrop for a clock.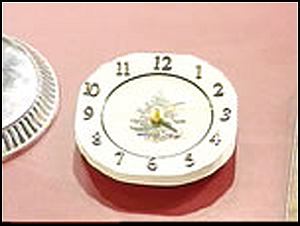 Make a great little clock out of an old teddy bear for your children. Just cut a hole in the belly of the bear and insert the pieces.
Other items that might make cute clocks are a decorative plate, (a plastic one may be easier to drill a hole through) or a plastic flowerpot with an artificial plant coming out the top.