A sunroom can bring sunlight and air into your home without sacrificing the comfort of the great indoors. Sunrooms can be custom-designed or purchased as a kit. When planning, decide how you are going to use the room. For example, if you want to extend your living room or kitchen, you'll have different construction requirements than if you want to install a hot tub or create a solarium for your plants.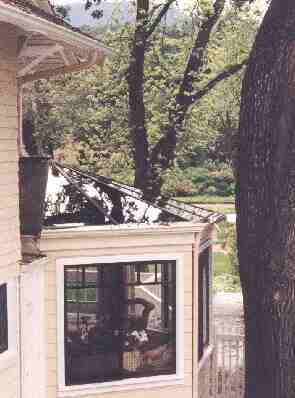 Location :
Also remember to orient your sunroom so that the main windows face south. Solar south may have a different track than the compass south. So watch how the sun moves across your house. After you find the best location for the sunroom, start your plans.
Roof and Sides :
A typical sunroom or solarium has a glass roof and sides, but circumstances should dictate your choice.
If your room is going to be in an area with major exposure to the sun, you might want to consider partial overhead glass or making just the sunroom walls of glass. Likewise, if you live in snow country and your sunroom will be located below another sloped roof (which will dump onto the sunroom roof), you might want to consider partial overhead glass or roofing instead of glass.)
If your sunroom is an extension of your house, consider using standard roofing materials like asphalt tile, wood shingles or corrugated steel.
Skylights :
Skylights are another popular option because they bring additional sunlight into a room. And if you want to house a hot tub or plants, think about enclosing the entire space with glass. This can be an expensive option, and most hardware stores don't carry the type of double-pane tempered glass you'll need. However specialty stores can help you out.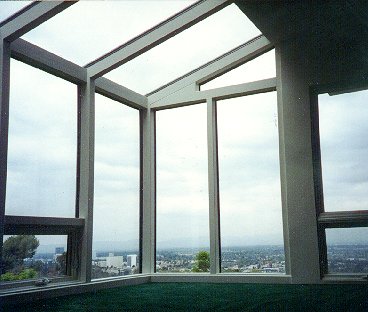 Knee Wall :
If you want your sunroom to have more of a feeling of a real room, you might consider a knee wall (basically just a short wall about knee height) as the lower part of the outside wall. (You can also run electric lines through a knee wall, something you can't do with glass.
Window Options :
Operable windows allow you another inexpensive way to ventilate your sunroom. If the room gets too hot, it's easy to crack the window and/or run a mechanical exhaust fan to cool things off.
Outside shade screens can be purchased from manufacturers and are placed over the top of the sunroom to filter the sunlight before it reaches the glass itself.
As the amount of glass used in a house increases, its energy efficiency usually decreases, simply because glass windows and doors are not as effective as walls for insulating. A great deal of effort has been made in recent years to improve the efficiency of glazing.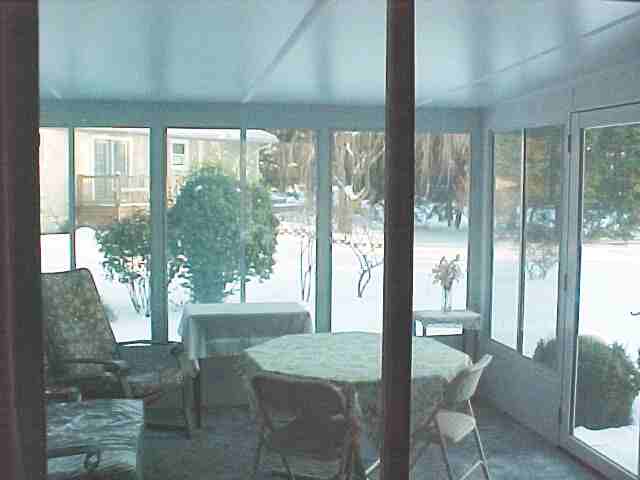 Today's windows are generally dual glazed or insulated. There are a variety of high-performance glazings on the market. Low-E glazing is the most common. This employs an imperceptibly thin metallic film or coating between two glass panes that selectively rejects some energy wavelengths, greatly reducing heat transfer through the glass and minimizing fading of furniture and carpets caused by ultraviolet rays.Where ultraviolet fading is a real problem for instance in sunny climates, a solar bronze- or gray-tinted glass can reject unwanted heat and UV rays. (Glass may also be purchased with a polymer coating that repels dirt, minimizing the need for washing windows.) Argon gas-filled glass can be even more efficient. New super windows use two low-E coatings or films to achieve incredibly high insulation values. Generally speaking, the more energy efficient the glazing, the more expensive it is.
Door Options :
Sliding doors, which have one fixed panel and another that glides along top and bottom tracks, can be good choices for sunrooms as an entryway. They seal out the weather and admit plenty of light.
Vents :
Many experts recommend installing vents or vents and a ceiling fan in your sunroom roof to draw heat into the house more efficiently and because the area can get fairly hot. (An exhaust fan to blow the heat out isn't a bad idea, either.) Depending on how much of the roof is made of glass, installing ceiling lights to light the area might be an option. And remember to include electrical switches and outlets for all your needs. It's not a bad time to add a couple of extra switches and outlets in case you decide to change the sunroom's function like making it into an office with a computer and phone in the future.