This information can clarify and help answer some questions.
Aluminum Gutters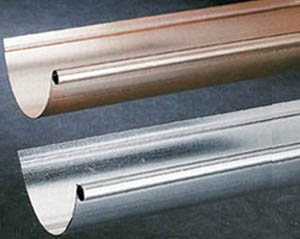 Aluminum is a moderately priced and rust-resistant material popular with newer installations. It comes unfinished or factory-painted. The downside is that aluminum tends to leak at joints because the metal expands and contracts too much for sealant to hold permanently. Also it dents easily.
Gutter Basics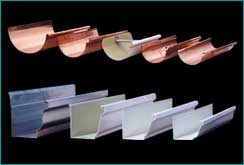 Gutters are critical components of a house because they protect both the roof and the foundations from moisture damage by channeling water from the roof out away from the house.
The standard square-edge style is also called the "box" style. It has sharp, boxy, square edges. The "ogee detail" style, which kind of looks like an exterior crown molding, is also called "K-style." It's slightly more decorative, giving your home's exterior a more finished look.
You'll need a variety of pieces to make your gutter system work. Both inside and outside corner pieces for gutters are also known as elbow joints. They're used to make right turns in your gutter system.