In many of the rooms in your home, the fireplace serves as the centerpiece, both visually and socially. Here, folks gather on chilly winter nights to read stories aloud, watch movies or just to talk. Guests inevitably gravitate to this soothing, flickering backdrop for conversation and mingling.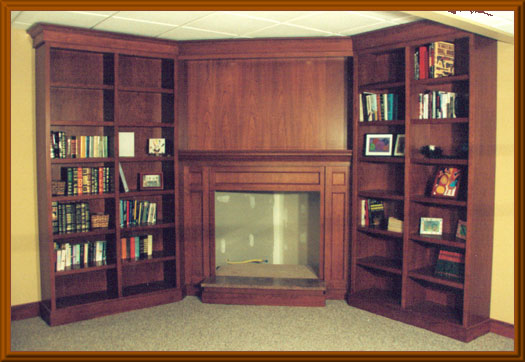 The enjoyment of a fireplace isn't limited to those who live in cold regions, though. In any climate, a beautiful fireplace provides an eye-catching focal point, one that if properly designed, serves as a worthy substitute for any work of art.
Whether your preferred style is rustic, contemporary or traditional, a fireplace will complement your room's look and feel; the materials and styling you choose totally define that look.
Natural stone stretching from the hearth of the fireplace to the peak of a vaulted ceiling mimics the rustic flavor of a cabin. Traditional brick, on the other hand, evokes images of a dignified Colonial, and beautifully stark marble makes a dramatic contemporary statement.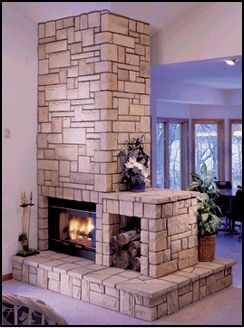 Depending on the pattern, ceramic tile appeals to cozy country tastes or to bold modern ones. As an accent, natural wood provides a handsome addition in the form of a mantel and/or trim. Those who love the look of natural wood might favor a wood backdrop that reaches from the mantel to the ceiling.
Recent technologies in both fireplaces and the materials used in the surrounds have significantly increased the number of styling choices now available.
Because today's direct-vent, gas fireplaces require no chimney and vent out the back or the top of the unit, they offer maximum flexibility for placement and styling. For example, if the fireplace vents through the back, it can be framed in beautiful windows.
When the home owner wants a new look, he or she can slip out the old tiles and replace them, spending a couple of minutes and a few dollars. In a few minutes, the look changes from cozy country to sunny Southwestern!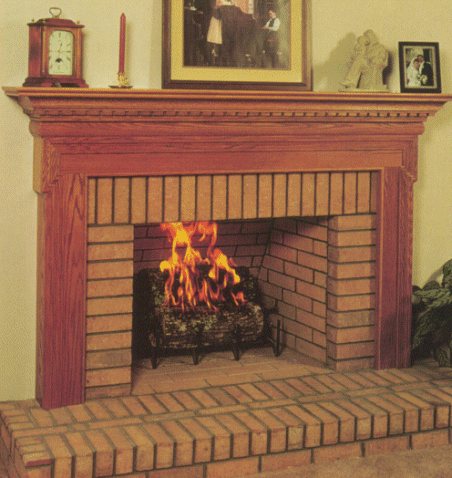 Those who want a brick or stone surround need to choose between the real thing and a factory-made product.
Made from natural-stone products and cement, manufactured stone and brick come in a large variety of colors and styles, closely matching the look of the natural product.
Although manufactured masonry costs about the same as the natural product, far less of it is used when constructing a fireplace surround. One layer is applied to a wood, concrete or metal frame instead of the entire unit being constructed of the product, saving money in the long run.
In addition to saving on material fees, the use of manufactured stone and brick saves on labor costs because it weighs far less than the natural product and requires no footings for support.
Whatever your preference, careful attention to the styling of not just the fireplace itself, but also of the hearth and the area surrounding the unit, promises a pleasing end result. Choose wisely and you will be satisfied for years to come.