To the clock repair person a room full of ticking, ringing, even coo-cooing clocks is the sound of pure bliss. To the rest of the world, it likely sounds maniacal. On the other hand, the timed chiming of one grandfather clock can be music to anyone's ears. Attractive clocks can complete or define the mood and aesthetic of an entry hall, library, or living room. They have been doing so for centuries.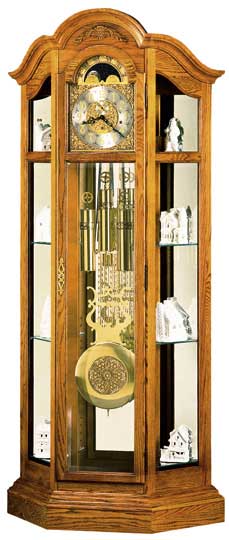 Since the invention of the clock, technology and fashion have brought many mechanisms for telling time in and out of popularity. The wall, mantle, and desk clocks, pocket, wrist, and stopwatches have all had their moments in the spotlight. In contrast, grandfather clocks have never been a fleeting trend. Floor clocks run the gamut from pricey to economical, making this purchase possible for almost everyone. Also, due to their ongoing popularity, it is possible to buy restored grandfather clocks from an English designer circa 1820s if that suits your fancy. To have the elegance of an antique piece without the expense, buy a replica. There are many designers who recreate the fashionable models from 100 or even 150 years ago. If you are buying one to complement a modern space, you'll find a wide choice of contemporary designers creating inventive and unique pieces.
The level of artistic craftsmanship in grandfather clocks is unequaled in any other type of clock. It is a painting, intricate woodwork, and a measure of time all in one. Imagine an entryway with a mahogany long case clock that has swan neck pediments and Chippendale columns at the trunk. The face is painted with a garland of flowers or a waterfront setting. It is definitely a piece to be admired for years to come. Because these clocks can represent one or many styles, they can embody much of the overall mood of a space. The other furniture can work as accents against this time-honored clock.

The style of this clock is Oriental. It would work nicely in a room with a rug that has similar colors. This is not a clock that would fit into a modern room or English-style space. It needs to be among other Asian-style furnishings. The intricacy of the hand painting makes this a sophisticated piece. Similarly, the three turned finials at the top give it a stately quality. Of course, it still maintains a level of function with three shelves hidden behind the door, which is perfect for storage of books or other accessories.

For a modern space, this rectangular cut floor clock in a cherry finish will definitely be the focal point of any room. It is unique without being outlandish. The glass front panel allows a view of the noble bell chime. The face is in a minimalist style. This piece would work best in a room that has furniture with minimal details and a lot of straight, clean lines. Though this clock is in appearance very modern, it plays the traditional Westminster chime on five bells.
In a feminine setting with furniture that has floral patterns and light colors, this clock would be good company. The lines of this piece are soft as oppose to the majority of floor clocks that have a very masculine structure. The curved dial and case distinguish it from the traditional square dials. The delicate hand-painting is simple and understated. This allows for the focus to be placed on the actual shape of the clock.
It is not difficult to find a variety of beautiful floor clocks and one that will suit your taste perfectly. These pieces by themselves help create a particular mood for a room and can assist in harmonizing all the elements of a room. Outside of their obvious functional purpose, many double as storage units. Most importantly, all of these floor clocks have a nighttime chime shut-off option so at least during the night we can forget about the time.