Comfort should come first in your home, and you certainly don't want your guests sitting stiffly on the sofa without enough cushioning. But the throw pillows you scatter around the living room don't have to be chosen simply for their soft stuffing, their nice fabric, or their pretty colors; you can add meaning to your home by incorporating the grace and beauty of Chinese characters.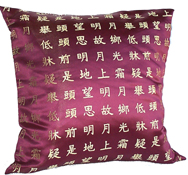 China's been known as the greatest source of silk since the second century B.C., so you can be sure that by now the art of making products with silk has been honed to perfection. During the Han Dynasty (202 B.C.-A.D. 220), the caravans carrying silk products were so important - and so threatened by small tribes of thieves - that the military defenses were extended in order to protect them.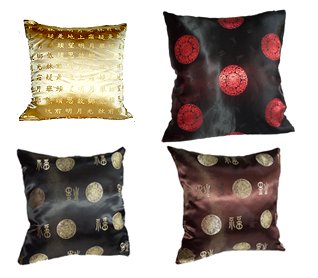 But silk isn't always practical - or affordable, and so many Chinese items today are made from other fabrics, cotton or man-made materials.
Today, it's certainly easier than trekking along the silk route to fill your home with items from China, including these pillows.
Often Chinese homeware is printed with characters with special meaning, which some believe really can influence the fates that surround your home. These pillows have the symbol for "double happiness" - the character for happiness doubled, to indicate supreme joy.
Pronounced "Xi" or "she" the double happiness character can be found on everything from wall plaques to lanterns.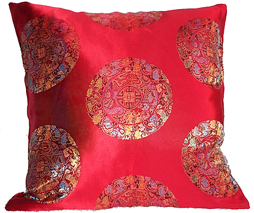 These cushions don't have to be used only in a minimalist, Asian-seeming decor. Because treasures from China have been used in decorating for centuries around the world, they will provide a nice counterbalance to a room with chintz fabrics, or a room with loads of antiques.
And maybe they'll bring happiness - both the Chinese character and the real Thing - into your home.