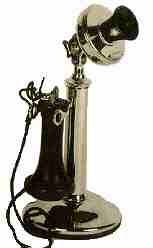 The first phone, as you may recall from your 5th grade history class, was fashioned by Thomas Watson for Alexander Graham Bell in 1876. It wasn't designed for its looks: it was just a wooden stand, a funnel, a cup of acid, and some copper wire. This was followed by a series of developments that's continued unabated ever since. Notably, in 1919, the first dial telephone was produced, with the receiver standing on a little lift above the dial, and gossip hasn't been the same since.

More recently, the desk phone was first introduced in 1949, in the basic black commonly seen in old movies. In 1954, color first came on the phone scene, and the phone began to be considered as a decorative as well as a practical item.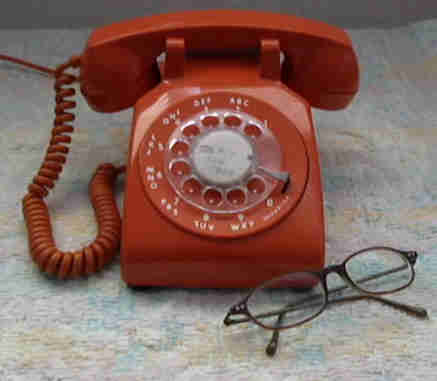 The changes over the past 130 years in the technology of the phone has also meant on-going changes in the way they look, and that means a change in how you can incorporate phones into your home decor.
The trouble we've gotten into with phones and design is that the easiest-to-find phones are, across the board, quite modern-looking, with sleek, slim lines and an ever-present little blinking light, or two, or twelve. This is fine if your home is decorated in the most modern way, with a lean sofa in lime green, track lighting and slate floors.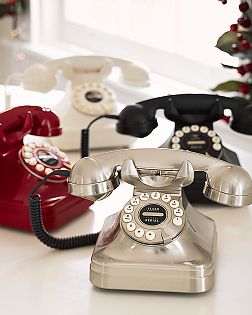 But what if you're after a different look? A modern telephone may seem like a little thing, but if placed in a room where you're trying to achieve a more old-fashioned look, it can throw off the whole mood.
If you're willing to look beyond the obvious sources for telephones — electronics shops — you can find phones available in a dizzying array of styles and colors, and with a variety of functions. You don't have to give up the conveniences found in many modern phones just to have one that looks good with your 1920s sofa. You could go with a retro look, and you can hone in on just about any period you want, from phones designed after the earliest models to phones that look like a prop from a 1950s episode of "Father Knows Best."
If your home is decorated in a historic style, you may want to go with a phone with a similarly old-fashioned look, even if it isn't exactly from the same period. A phone based on the Victorian model will look better with Colonial furniture than a sleek, contemporary phone will, even though the periods are a little bit off.
Back in the first days of telephones, they were all on the wall. You didn't need to sit down and get comfortable, because you weren't going to be talking on the phone for a long time, because initially the phone was used only for emergencies and other very quick calls.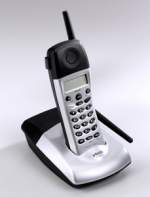 But as the technology improved, phones moved to the desk or tabletop model, and then back to the wall, with the first wall phone introduced in 1956, again in basic black. It was a matter of convenience; in the 1950s, a busy wife and mother wanted to be able to cook, wash the dishes, and talk on the phone at once.
The retro wall phones available today have the appearance of the old-fashioned models, but like the desk phones, they also have push button technology, including redial and volume control. And bear in mind that a wall phone can also be used to enhance the look of a room.
Tip:
What if you really want to emphasize the historic look of your home? You could put up a country kitchen wall phone circa 1920, and you could even find one with a crank handle — but even though the handle actually does crank, you'll be using the modern convenience of push buttons, speaker phone, and both hold and mute functions.
With a little hunting, you're sure to find a phone that won't clash with the look of your home, even if you don't want your living room to look like a space-age control room.