They release a bouquet of different smells, like magical potions, that can help turn even the worst of cooks into treasured and envied chefs. The aromas of spices and herbs such as basil or ginger or cilantro whiff out of relatively tiny containers that are easy to lose in the jumble of serving spoons and pastry brushes. So of course spice racks are mainstays in the kitchen of all serious chefs.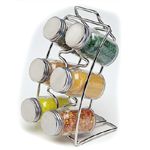 Unfortunately, more often than not, the chef's spice rack has had too long a stay in many homes. Doesn't the zestful fragrance of oregano deserve more? After many years of being overlooked, that cumbersome wooden rack no longer does justice to the garden of flavors it holds.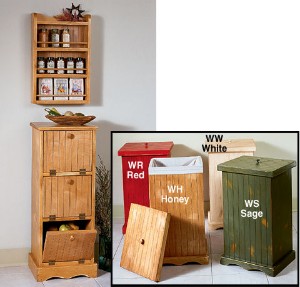 With the flourishing popularity of herb gardens, there's been an increase in newfangled spice racks. These new units can add a little something special to a kitchen. While many chefs prefer placing the spices behind cabinet doors, many very attractive and artful racks are available that can breath new life into an indifferent nose, and add an attractive feature to your kitchen. Chefs in their kitchens have often been compared to magicians or even scientists in their labs. With that in mind, the new trend towards spice containers that resemble glass test tubes makes perfect sense. These would look wonderful in any style kitchen. These test tube containers are like small islands of color and class. The elegantly long tubes use corks for stoppers and stand upright in a wooden, square container. Also, because they don't take up much space, there's no reason for them not to be put on display. The only drawback is that they don't have labels on the containers. This may only be a problem for the novice spice cook. So unless you know your spices by sight and smell, you may feel stranded without a guide to decipher one from another. For those of us who don't know our spices by smell, let's turn to the more traditional racks. These are a new take on the clunky wooden ones of yore. They're smaller, more compact, less expensive and still complement a more traditional setting. These more economical pieces have, you guessed it, less wood. They display the colorful appearance of a rainbow of flavors, because the containers aren't masked by a large, encumbering rack.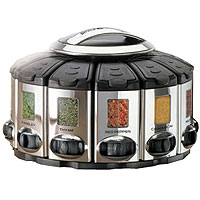 In the quirky-style kitchen or the space with an amalgam of different design motifs, a divorce from the traditional spice rack is needed. This style comes in chrome, black, or white, and because of their rotund, circular shape, they're often referred to as "carousels". With small square windows that reveal the spice inside, these units also have automatic measuring knobs to appease the most careful of chefs. Due to their size, they could find a home in the smallest of kitchens. But because of their spacey design, the overall style of the culinary space should be fun or wacky.
While the wooden rack may have fallen through the cracks in history, the chrome wire ones have a classic touch and help define elegance. They come in many different shapes, from cylinder to a set of rows to the test tube sort. Some of the rotating ones even have space in the middle to use as storage for cooking utensils.
On the other hand, though they may be a step away from elegance, they're practical and fun – the plastic, stackable containers can be a beautifying element. These come in clear plastic, in simple shapes, and are large enough to hold a valuable quantity of spice. Arranged in an interesting or inventive style, they'll add greatly to a space.
The multitude of stylish spice racks available makes having a good one a definite necessity in any kitchen area. A beautiful piece can help define the entire space, just as a musty one can spoil a setting. It's important to pay attention to all the little things; and in doing so, spice things up a bit!