While grown-ups often love luxuriating in a nice long shower or a soothing hot bath, getting the kids to soap up can sometimes be enough to work you into a lather.
To make bath time more of a pleasure and less of a pain, why not spruce up the kids' bathroom, just for them?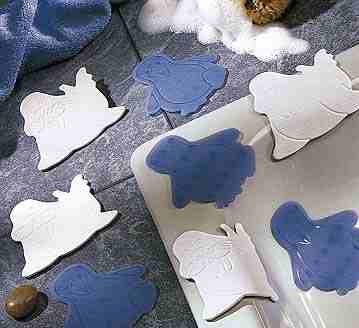 As is often the case when decorating for kids, safety is the first concern, and in the bathroom this is especially important. The function of the kids' bathroom is to provide them with a place that they find appealing enough to spend some time in, but which also won't endanger their well-being.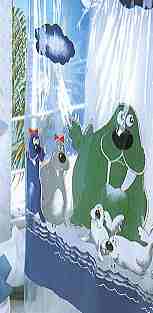 Making over the kids' bathroom doesn't have to cost a fortune. You may just put cheerful cut-out no-slip pads in the tub, get some bright new washcloths in the hopes they will actually be used for scrubbing tiny necks, and hang a new shower curtain just for kids.
If you have one little child and one slightly older, the older one may object to your attempts to make the bathroom "babyish." If this is the case, you can compromise: you don't have to get a shower curtain with a cartoon character, but maybe instead one with playful sea creatures would appeal to both age sets.
Decorative no-slip pads on the floor of the tub will ensure that everyone stays upright while showering.
Remember that a partly-clear shower curtain will make for easier monitoring of bath time, so you can check and make sure that Junior is washing as well as playing boats and paddles.