Spring is the season of renewal and rebirth; just about every religious tradition has a spring ritual or holiday celebration marking the renewal of life, because even our most urban-based, hectic lives are indeed based in the natural world. And that natural world is just teeming with new life at this time of year.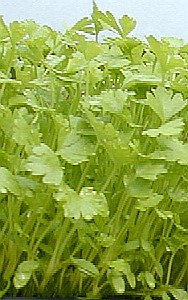 And the color of that spirit of renewal is green. Chances are you're used to thinking of celery as simply that rather boring, tame, calorie-free green stuff that's good only for adding to tuna salad or stuffing with cream cheese, but celery actually has quite a dignified agricultural history. The first ancestor of our modern celery was a wild plant called "smallage." This marsh-dweller was used medicinally for centuries, called "selinon" or "selinon heleion." It wasn't called "celery" until the 9th century. Its reputation was mixed: it was considered both an omen of bad luck and an aphrodisiac.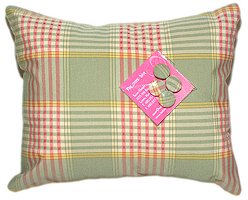 Even though today celery doesn't seem particularly ominous or sexy, it makes for a great color to use in home decor.
The acid-bright colors of the past couple of years — the brilliant limes, fluorescent oranges, and flaming yellows — are getting toned down this year, and yet you can still add a note of springtime color by using a green that originates more in celery than in cellophane.
Celery green is an icy pale green, a color that is sure to add a soothing note to any room.
For a striking effect, try pairing celery green with a darker, richer color: a Chinese red, a deep maroon, or a royal blue. Celery green walls will brighten a room, and adding trim in a darker color will only enhance the effect. Choose a rich cream or ivory for the trim if you want to further brighten the room while giving it a more formal mood.
To put celery green to its most compelling use — and to bring it to its most formal effect — try pairing it with black. Celery green sofa cushions trimmed with black piping, or a black-and-celery-green vase? A black tablecloth with celery-green glass plates? You'll think you're going to be entertaining royalty.
Celery green is a good choice for tableware and accessories, whereas not all greens are appetizing. You don't have to look far to find plates, table linens, candles, and other table items in celery green, and the color will add a pleasing note to any table.
Celery green can also be a good pair with another, slightly darker shade of green. Be careful that you don't make the whole room look too green, but celery green is so nearly-neutral that it can work well with another green with the same pale, slightly-yellowish tones.