It's mid-summer, and in many parts of the world this means it is hot, and you're longing for something simple and cool, something to soothe your summertime blues, or at least to make you feel a little less sticky.
What's better for this than white?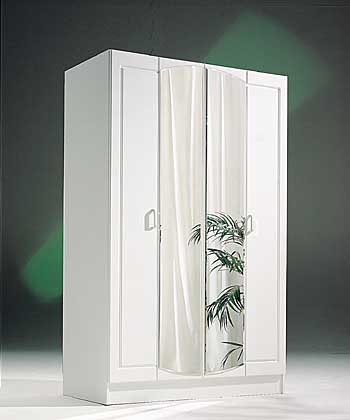 Rather than being a color, technically speaking white, of course, is the absence of color, which is what makes it so cool. Instead of absorbing light rays, the way everything from yellow to purple does to varying degrees, white reflects light back, so that anything white doesn't absorb the light, and therefore doesn't absorb the heat, either.
This works not only in your clothing but it also works in your home.
If you're feeling dopey with heat, and yet you have the energy for a big home project, you may want to give one of your rooms a vacation from color, and try painting the walls bright white.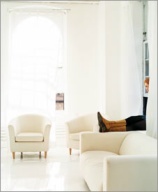 You can see in this first photo how striking a white-on-white room can be. Here, we see the white furniture placed against a white background, creating a clean canvas to which just a bit of color can be added. The look of this room can be changed just by adding throw pillows and an area rug; the color and style you choose for the accessories will then dictate the look of the whole room.
Imagine how this room would look, for example, with brocade throw pillows in a pastel floral pattern and a pink and white hooked rug. Then, imagine how it would look with square, bright orange pillows and a rug in a modern, geometrical orange and yellow print. You can see how the addition of accessories to an all-white room will give you a completely different look, offering you more control and versatility than if you're committed to a color scheme dictated by the color of the walls and furniture.
An all-white room, of course, requires a great deal of care, so if you have kids, or pets, or even if you just lead a more casual lifestyle, you may want to opt instead for just painting the walls white and maybe having a white floor in a washable material.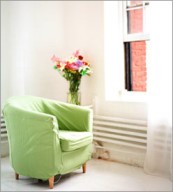 In the photo you can see how the green fabric of this chair stands out in the white room, giving a refreshing, springtime feeling to the room. And yet the chair's slipcover is removable and washable, and any pet hair or spills won't jump out as much as they would on a white slipcover. The same is true with this striped chair in the photo on the right.
The mattress-ticking stripe gives an old-fashioned feeling, which, when paired with the white walls and modern design of the chair, creates a look that's both old and new at once.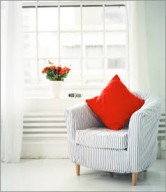 Tip:
Even if you don't want to go through all the trouble of re-painting the living room, you can still bring in white's cooling influence with just a few changes in your accessories. Try filling a tall glass vase with white stones, or swap your maroon or navy lampshades for simple white ones.
However you decide to bring white into your home, it's sure to offer a cooling breeze on a hot summer's day, and that and a tall glass of lemonade will get you to September in no time.