We like to think about color a great deal, and we like to talk about color, and when we talk about color, we often talk about the "temperature" of a color. Each section of the color wheel has a certain temperature associated with it, with the blues and whites on the cooler end, and the reds and oranges on the warmer side.
But sometimes these colors can trick you: a purplish blue can seem warm, and a bright orange can feel cold. So it's important to develop your own sense of the color wheel so you can use color to your best advantage in every room you decorate.
This time, we'll take a look at one of the warmest colors around: brick red.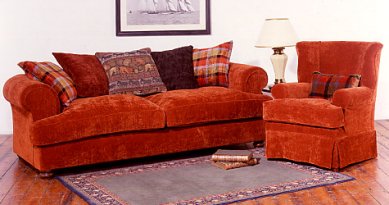 Tip:
While some reds seem harsh in their brightness – such as Chinese red – brick red has enough warm brown tones in it to subdue the sharpness of the bright red. These browns blend with the true red to evoke a feeling of cozy warmth, sure to alleviate a cold spell in any room of the house.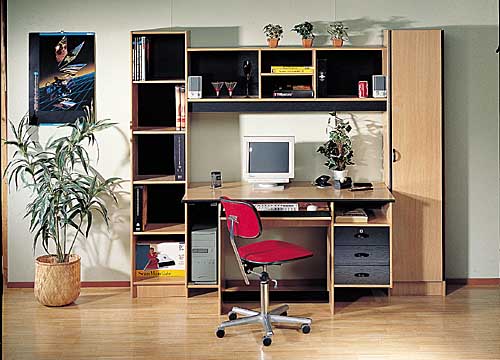 Brick red would be an especially good choice in a room that needs some warmth: a room with northern exposure, or one in which you have yet to replace the rattly old windows. Any room that's a little bit drafty and tucked away from the sunnier spots will benefit from the warm tones of brick red.
You can often find upholstered furniture in brick red, and the color is a favorite in Oriental rugs. A walk through an Oriental carpet showroom will give you a greater sense of the subtle look to this color. If you carefully wade through the piles of carpets, you'll find that some have just small flecks of brick red, while others feature it as the predominant color.
Don't be afraid of mixing brick red with other reds. Maroon, for example, or cherry red have much more blue in them than does brick red, but when set up with the right combinations of other colors, the mix can be stunning.
Two factors to consider when mixing these reds are pattern and texture. The various patterns of Oriental carpets and furniture upholstered in a tapestry fabric may at first glance seem just to clash terribly. But try putting a few of these patterns together – in a light similar to that in your home–and you are sure to find a combination that really works. There's a fine line between dreadful and fabulous.
Bear in mind as you work with these patterns that you need to have some similarity among all the fabrics. A small brick red flower repeated in the Oriental carpet and a brick red background with deep gold stripes on the sofa will work, and will give the room a luxurious, textured effect.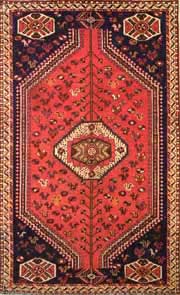 If you're thinking of outfitting a room with brick red furniture and accessories, take some ideas for wall color from that Oriental carpet showroom. Colors often matched with brick red to good effect are deep gold, rich cream, and a pale green, such as a celery, celadon, or sage green. Any of these would be the perfect complement for the walls, perhaps with brick red trim. You should aim for a light-colored wall if you're planning on furnishing a dark room with brick red; you want to warm the room, not bury it in darkness.
What if you already have an exposed brick wall? Then put the above advice to work in the reverse: choose a celadon green sofa, with cushions in brick red and celadon, or in deep gold and brick red. An exposed brick wall gives a room a more casual, bohemian mood, and that mood can be enhanced with Oriental carpets or Turkish throw pillows.
So cuddle up by the fire with some paint chips and fabric swatches, and let your imagination be your guide into the warm world of brick red.