We've chosen to look at a combination of colors — a combination that's so popular, it's seen everywhere from the kitchens of the humblest cottages to the entryways of the grandest homes. Black and white is so popular, and has remained popular over the years, in part because it's almost a neutral; you can use it as a backdrop for many different looks. Just as cream or off-white walls can look good with various styles, fabrics, and colors, so too does black and white. It lends itself to a variety of looks, and therefore it's a good investment. Not that you necessarily have to invest a fortune to get it right; you do find it in marble or ceramic tile, but you can, with a bit of preparation, paint a wood floor in the classic checkerboard pattern, or you can work with black and white with fabrics and other materials.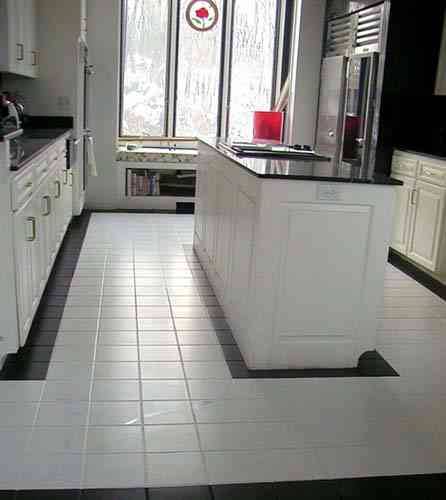 The classic use for black and white, of course, is in tiles, most often in a checkerboard pattern. It's still found in the bathrooms of the great old Art Deco apartments in Paris and New York, with small ceramic floor tiles, usually no bigger than a half inch square with black or white trim.
Black and white is also seen in foyers of grand old homes around the world, which often utilize large tiles, sometimes made of ceramic, but more often marble or stone.
But just because that's where you're most likely to find black and white doesn't mean you're limited to using it in these rooms. Black-and-white tiling for a kitchen floor will give the room an old-fashioned, yet clean look, which can be repeated in tiling on the counter and backsplash.
Tip:
In a living room or bedroom, you can work with black and white in fabrics, as well as with flooring. How about a white carpet, and a settee upholstered in black and white toile? Or for a modern, dramatic look, try using black-and-white striped drapes and matching wall paper, with white trim. One thing to consider when planning for black and white is whether you want a true white or a cream. The brighter white will make the room a bit brighter, of course, and will be best for setting off bright colors in combination with the black and white motif.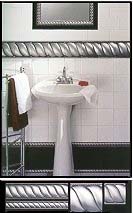 However, if you'll be using more subtle tones, such as peach, pale blue, or sage green, a cream or off-white for your "white" will provide a more soothing, elegant look to the room.
Whatever shade of white you use, black and white can give you lots of room to play, as anything else in the room — anything with a color — will really stand out. It's the perfect way to show off a red chair, or a bright green rug, or a favorite brightly-colored vase, while giving the room a polished, pulled-together look.