Hovering somewhere between orange and pink, with a brush of tawny-gold, lies the color we've chosen to offer you: apricot.
Apricot is a winning color for you to consider in your interior design work, if only because it is so unusual and different. It's sure to perk up even your most difficult — and your most dismal — problem room.
As you're probably aware, some colors inhabit the world of the "neutrals": whites, off-whites, creams and their brethren, the colors which can adapt to the demands of other, stronger colors, such as red, deep blue, magenta, and bright green. The world is filled with these stronger colors, and of course we can't list them all here, but you get the idea.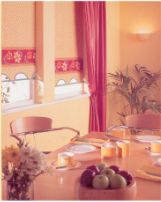 Where does apricot fall in this spectrum? Depending on how dark an apricot shade you use, it could fall more toward the neutrals. If you're using an apricot paint, you could ask the paint store to mix in cream or off-white until the apricot is barely there; just a faint apricot whisper in the mix. Or you could go with a full-blown apricot, the shade of the fruit shown here, and wind up with a much stronger color which you would want to offset with something more in the neutral range.
Whatever shade you choose to use, apricot will warm up any space, so it's good for a room on the shady side of a house, or a room which tends to look cold, such as a bathroom or study. At the same time, its versatility comes from the fact that not only is apricot a warming color, but it's also quite a cheerful color, recalling spring and summer days. Many times a warming color, such as a maroon, is also dark, and is best saved for an autumn makeover. But apricot can add a spring-like touch as well, since it falls more in the yellow-orange range of the spectrum.
Tip:
Painting walls apricot will certainly add to a room's spring-time feeling. To achieve a pulled-together look, consider having the paint mixed in two shades: a darker, richer apricot for the trim, and a toned-down mix that's paler but still solidly within the realm of apricot for the walls themselves. Or switch that formula, if you want a room with more warmth, especially if it's a larger room that can handle a darker shade. You can also change the look of a room with apricot accents, upping the tone of the whole room with just a few pieces: An apricot slipcover on a chair, some apricot throw pillows on an off-white sofa, or a new throw rug heavily invested with apricot tones.One of the beauties of decorating with a color that's so easily identifiable in nature is that you can easily complement wall color or furnishings with art work: A quick search on the Internet or a prowl through some antique stores will yield a raft of old paintings and lithographs of apricots. Frame a few of these, put a bowlful of apricots on the coffee table, and you've changed your room from winter-dull to springtime-fresh.