As we know, you don't need an expensive room makeover to brighten things up around the house, and you can often change the focal point of a room just by making a few easy and inexpensive changes.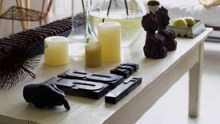 One of the newest trends in this kind of small-scale decorating is the creation of the "tablescape."
As with many design ideas, the tablescape may remind you, simply, of your grandmother's tables of collectibles. An arrangement of porcelain flowers, or miniature horses, or even a bowlful of gardenias from yesteryear would qualify as one of today's tablescapes.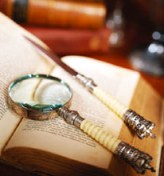 The idea first is to rid the room of clutter. No one will see your lovely tablescape if it's obscured by a bunch of junk. But remember that putting a tablescape on the table where keys, mail, and other items are apt to collect could help break you of the habit of letting the clutter pile up.
Think of the mood of the room you're working with. If it's elegant and old-fashioned, by all means take a tip from Grandma, and install a tablescape based on antique lace, with some silver items, and maybe a few nicely framed black-and-white photos.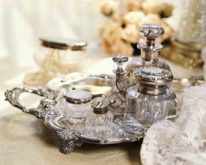 If you're aiming for a more modern, slick mood, create a tablescape that's suitably modern. On your glass table, try an arrangement of small modern sculptures, perhaps accented with a single stem of bamboo in a square, black pot of water and stones.
For a country-cottage mood, a tablescape could start with a swath of floral-print chintz, on which rests any collection you want to display: antique jewelry, ceramic vases, or even a few favorite old books.
Tip:
One of the most important factors in creating an effective tablescape is that it should reflect your own interests and tastes. If you truly love your collection of whimsical salt and pepper shakers, then display them proudly and in a well-organized manner. If it's antique brooches that capture your fancy, try pinning them to a black velvet cloth to keep them in place.
Next, think of what other items will best complement the base for your tablescape. Consider not only complementary colors, but also texture, shapes, and even height. Just like when you're planning a garden, and choose to balance tall hollyhocks with low-growing snow-on-the-mountain, try and have at least one item in your tablescape that draws the eye upward from the flat surface of the table.
This item could be fresh flowers, or dried flowers, such as eucalyptus or lavender, or it could be anything else tall and spindly, such as peacock feathers, or a vase full of small flags.
Finally, make sure that if you do install a tablescape, you reserve enough time for dusting it regularly; it will only look good if it's properly maintained. But a nicely-cared for tablescape can provide a new focal point for any room, giving you a way to display your collections or your favorite items and adding interest for even your most frequent guests.